Musings on Voegelin,Theology and the Church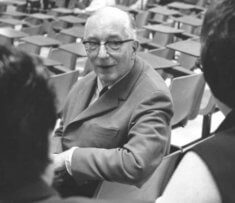 This interview is in light of  Brendan Purcell's essay, "Voegelin and Theology Today" on Fred Lawrence's article, "Eric Voegelin: Mystical Philosopher and Scientist."

Vv: Is there anything in Catholic theology that is deficient and could be corrected by adding in Voegelin's thought?
BP: Well, as I say in my commentary piece, Voegelin and Theology Today, there's a big need for theologians to get out beyond the stockade and explore the presence of Christ and the Trinity in all the different manifestations of experiences of transcendence.
Vv: Does Voegelin correct Thomas, at least in the area of Reason vs Revelation?
BP: I think Aquinas's differentiation of reason and revelation will stand long after Voegelin has moved on. As I hint at the end of my commentary piece, I've always felt that Voegelin just doesn't accept revelation in the way Christian believers do–for example, the statement somewhere in Volume 1 of Order & History that the entire range of human experience is already found at the compact level.
But even at the human interpersonal level we don't contain each other, each one, from birth, even before birth, is a fairly unique gift to existence. And to reduce either Old Testament revelation or the Incarnation to a mere unfolding of what's already there is to flatten out the meaning of revelation to almost nothing.
Vv: Is there such a thing as Catholic theology as a coherent science since the decline of neo-Thomism in the 70's?  Is Catholic theology subject to the Zeitgeist?
BP: There's plenty going on in Catholic theology, but I'm not a theologian (ok, I've a BD and an STL from Rome but that was a long time ago), but you may have to move into languages like Italian and Spanish to get some of the best of it.
I wouldn't say Catholic theology is subject to the Zeitgeist, but some Catholic theologians definitely are–let's start with an intellectual crook like Eusebius of Caesarea!
If I wanted to be theological, I'd say something like this: there's only one Theologian, that's the Father, only one Theology, that's the Incarnate Divine Word, and the only way that Catholics can work from within such Theology is by doing what they're told to do in Mt 18:20–where 2 or more are gathered in my name, there am I among them.
That is, only if those who wish to be called theologians are united in love for one another, will they be assured of having the presence of Theology, Jesus, among them, in the light of which they can carry out all their work . . .
Rahner, Lonergan, and Benedict
Vv: Are there nonsense philosophical premises being inserted into current theological thinking? What has happened since Balthazar and Rahner?
BP: I don't know as I mostly read theologians who write in Italian, and ones I like most know their Hegel and Schelling without allowing them to take over as maybe a Küng does.
For one, I've never been attracted to Rahner–as a student in Rome I was quite put off when I read Lonergan's works on De Deo Trino and De Verbo Incarnato, and found them so immensely superior to anything on the same topics in Rahner, who it seems just couldn't get round to accepting that a mere Canadian might be intellectually streets ahead of him (though he does mention Lonergan's De Deo Trino in a Theological Dictionary he edited later).
And as someone with a Lonergan background in theology at the time, I found von Balthasar always inspiring, yet hard to work out intellectually where he was coming from and where he was going. Even if I can't name off theologians, the quality of magisterial writing by JPII and BXVI ranks with any theological work in the late 20th and early 21st century, I'd suggest.
Vv: Is Benedict (Ratzinger) theologically interesting and does his writing actually show a sympathy or even influence from Voegelin?
BP: I don't know enough of BXVI's theological writings to answer whether he's theologically interesting or not; certainly his 3 volumes on Jesus of Nazareth is–I found as someone not able to keep up with modern scripture studies and generally quite suspicious of whole ranges of scripture scholarship–a very enlightening experience indeed.
Now and then he refers to things like Gnosticism–Voegelin sent him Wissenschaft, Politik und Gnosis [Science, Politics, and Gnosticism] when it came out in I think 1959 (I'm sure you have it but I'll attach his letter of thanks to Voegelin for that) but for all I know that's all of Voegelin he may have read.
Vitality in the US and Australia
Vv: Is anything being done in the flaccid Catholic environment of the U. S. or must we look still to Europe?
BP: Well, the U. S. environment isn't that flaccid! Obama has woken up all the U. S. bishops, there's a wonderful prolife movement, you have some of the best bishops in the world. I can tell you from my experiences in parishes in DC and Chicago that the quality of participation and the numbers of young adults is far higher than would be found in Ireland these days.
I think a lot of the life in the Church today is led by people involved with the ecclesial or lay movements, including Opus Dei that doesn't like being linked with anything else. And these movements tend to be worldwide.
Just last weekend I was in Melbourne with about 500 folk from Focolare welcoming the Focolare president, Maria Voce–great to have loads of French-speaking islanders from places like Wallis & Futuna, New Caledonia and Fiji, as well as from all over Australia. Big number of those there were under 30.
Before our Sunday Mass, as is often done in Australia, we had Vickie, a Catholic aboriginal tribal leader, who presented Maria Voce with a memory stick, and there was a little ceremony that all the teenagers took part in–they've met with Vickie before, who's tried to explain to them the inner life of the aboriginal folk of her tribe. Then the French speaking islanders had wonderful processions of the Word–I'm just saying, there's plenty of life even in secular Australia, where over 60% of the folk I give Holy Communion to every day are from Asia–from countries often with fairly recent history of martyrdom . . .
David Walsh's Philosophy
Vv: Is there such a thing as Catholic philosophy distinct from theology?
BP: The best answer to that is David Walsh's work, especially his recent The Modern Philosophical Revolution that VoegelinView has kindly given prominence to.
In my view he's the greatest English language Catholic intellectual around, though his work in philosophy and politics is relentlessly reason-based. In my view he moves beyond some of the limits in Voegelin's thought less by arguing with him than by working through the materials in a quite new way (just as Voegelin would have wanted him to do!).
He's occasionally spoken of some of the limits in Voegelin at APSA meetings that don't always go down to well at the EV Society, but that's what the EV Society is for!
Vv: Thank you for taking the time to share your thoughts!