Where is God in Suffering?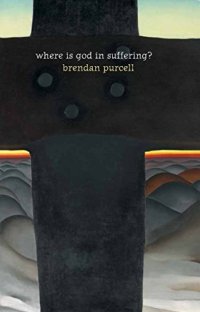 Where is God in Suffering? Brendan Purcell.  Veritas Publications, Dublin, 2016.
The apparent injustice of bad things happening to good people—as well as the reverse—has for many been a stumbling block for faith in God.  To the Theodicy question that asks how evil and suffering can be reconciled with an omnipotent and omnibenevolent God, a number of answers have been proposed—all of them rather abstract and impersonal in their arguments that God permits human beings to use free will to choose evil but providentially brings good out of that evil, or that evil is necessary to maximize the good, or that suffering is necessary for human spiritual maturation.  But as the title of Brendan Purcell's book suggests, although it does briefly discuss some of the traditional philosophical responses to the Theodicy question, it is not an exercise in reasoning about "the problem of evil" but is instead a profound existential and spiritual reflection by a philosopher who is also a priest but above all a human being who has entered into the mystery of suffering where meaning begins to become visible only in the light of faith and love.
While mystery was a theme of Purcell's previous book, From Big Bang to Big Mystery: Human Origins in the Light of Creation and Evolution (New City Press, 2012), only a few pages are devoted specifically to evil and suffering.  The much fuller treatment in Where Is God in Suffering? is the result of a request by someone who heard Purcell address, on an RTÉ program, Stephen Fry's vehement objection to a God who would permit the suffering of children.  To get an idea of the tenor of Purcell's response one need only contemplate the Georgia O'Keeffe painting Black Cross, New Mexico, 1929, which fills the cover.  Behind and not quite entirely concealed by the enormous, foreboding, dismayingly black cross looming in the foreground is a billowing sea of rounded, mostly grey hills illuminated, in ascending order, by the red, orange, yellow, and bluish hues that herald the sun still below the horizon.  It is, of course, precisely the light from the not-yet-visible sun that makes the blackness of the cross simultaneously powerful and yet mysteriously overcome.
The blackness of the mystery is not only in the misery of suffering but also in the humanly troubling and seemingly unanswerable questions: Why would God create human beings with free will while knowing that many would use their freedom to inflict terrible suffering on others?  Why does God permit children to suffer and die from terrible diseases or abuse by adults?  Indeed, why do we have to suffer at all?  As a response to those who lack faith in God and conclude that suffering is simply meaningless, Purcell explores the actual experiences of people who have accepted suffering in faith and finds not intellectually satisfying answers but a spiritually profound and fulfilling meaning.
Early in the book he brings up the moral objection against a God who would allow the suffering of innocent children that finds its classic literary treatment in the monologue of Ivan Karamazov in Dostoevsky's last novel.  Although Ivan presents what he considers a devastating moral indictment of a callous God who would tolerate adults torturing and even murdering children so that he could bring about some ultimate paradise, he himself is an aloof intellectual who has never aided an actual suffering child.  Since he declares that he will persist in his rejection of God and his Kingdom even if he is wrong it is clear that his outrage is all a justification for a demonic rebellion against an allegedly immoral God for whom the paradise end justifies unforgiveable means, a God whom he proudly prefers not to serve.
In response to such rejection of God by Ivan (and others) Purcell quotes Eric Voegelin's observation that dedivinizing God results in dehumanizing oneself with all its attendant spiritually destructive consequences, as it does for Ivan Karamazov.  Furthermore, Aleksandr Solzhenitsyn's often-quoted statement in The Gulag Archipelago that "the line dividing good and evil cuts through the heart of every human being," David Walsh's similar point that "holocausts…exist as a possibility within each of us," and Hannah Arendt's conclusion that even in Auschwitz and even for members of the SS "everyone could decide for himself to be either good or evil" all attest that the suffering that is caused by other human beings is the moral failing of human beings, not God.  The answer to Ivan in the novel is to simply choose the good, to accept the mystery in the divine spirit of humble love of all human beings.
But that still leaves the question posed in the title to which Purcell finds an answer in the astonishing discovery (astonishing from a human perspective) of the spiritual growth that results from acceptance rather than resistance and rebellion.  He devotes separate chapters to some severely afflicted human beings who did, in faith, choose to accept suffering and then encountered God in the depths of their pain, such as Chiara Luce Badano, who died at nineteen from bone cancer, and Etty Hillesum, who, although she might have been able to escape the Holocaust, chose instead to embrace the suffering the Nazis inflicted on her people and perished at twenty-nine in Auschwitz.  Both women experienced in their acceptance of suffering a profound joy and intimate communion with God, which is also the inspiration of Chiara Lubich, the founder of the Focolare movement devoted to the ecumenical unity of all human beings.
When Lubich was told by a priest that the moment of Christ's greatest suffering was when He cried out "My God, my God, why have you forsaken me?", she concluded that a commitment to loving God required a commitment to loving Christ at the moment of his most intense suffering when all seemed lost and meaningless, the moment when the black cross seemed to be all there was.  Yet, as the Psalm Christ was quoting continues, it was also the moment of opening to ultimate trust in God.  Accordingly, Lubich decided that genuine love and commitment to Christ means that even the relatively minor sufferings of life are opportunities to love "Jesus Forsaken" and thereby to grow in trust in God.  This means dwelling in the mystery of a God who chooses to share in our suffering as we are drawn from our mortal humanity to a participation in divinity.
In the latter part of the book Purcell provides a close reading and analysis of the mystery of the presence of God in the paradigm case of suffering in the Book of Job and discusses some of his own personal experiences of spiritual growth through suffering, as well as the evil of 9/11.  In its mere 134 pages of text this book contains considerable wisdom, partly because it is very personal in its meditation on the mystery of suffering but primarily because Purcell's point is that the lesser mystery of suffering reveals itself to be the greater mystery of Love.  The O'Keeffe painting makes the perfect cover because its symbolism expresses the ineffable truth in the realization that the gateway to the dawn is the luminous black hole of the Cross, or, in David Walsh's words, "redemption is the flower of suffering."