The Father's Tale: An Everyman in Quest of His Wholeness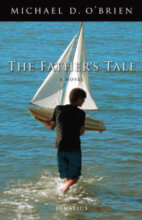 The Father's Tale: A Novel. Michael D. O'Brien. San Francisco, CA: Ignatius Press, 2011.
Many years ago I came across a mordantly witty book review: "The covers of this book," the unimpressed reviewer wrote, "are too far apart." In this case, if I wanted to be equally pithy I would have to say that even at 1072 pages and 2.75 inches thickness the covers of The Father's Tale are too close together, because the end leaves the reader hungry for more.
This is an amazingly rich and deep work which the author modestly characterizes as "a modern retelling of the parables of "The Good Shepherd" and "The Prodigal Son," but it is so much more that one hardly knows where to begin. Besides these parables the story echoes the Odyssey and the Divine Comedy and carries overtones of Job. It strongly evokes Russian literature, especially Dostoevsky, especially The Brothers Karamazov, which is also based on the theme of the search for the father (and the name Alyosha plays a significant role in O'Brien's novel), mystical theology, chess, and poetry, particularly that of Gerard Manley Hopkins, especially the poem that begins "As kingfishers catch fire, dragonflies draw flame."
It is also a profoundly Catholic work, a kind of Catholic epic with a seemingly unheroic protagonist with a heroic first name, Alexander Graham, who is a forty-seven-year-old widower and bookseller with a rheumatic heart and a mysterious proclivity for Dostoevskian dreams. (But the world-conqueror's name "Alexander" will metamorphose into the similar but quite different name "Alexei," from "Alexei, the Man of God," a fifth-century monk. Also readers who might feel inclined to add "Bell" after Alexander Graham will find that O'Brien enjoys a play on this name also, but they will have to wait until near the end of the book to discover how.)
Once very happily married, Alex has been a widower for five years and his two sons, Jacob and Andrew, whom he is convinced he has failed as a father, are busy with their own lives and seldom call. He has spent his whole life in the small Canadian town of Halcyon, population twelve hundred, located "in the forested hill country north of Lake Ontario." Although it is only a two-hour drive to Toronto, he has visited that city only once. His quiet, somewhat reclusive life revolves around his bookshop, which he named "The Kingfisher," in part because, as he puts it "Halcyon is the old name for the Greek myth of the kingfisher."
After a brief but mystifying Prologue set on the Trans-Siberian Railroad that is not explained until hundreds of pages later, Alex's tale begins with him venturing out into a snowstorm in a winter evening. His destination is the local Catholic church where he intends to make a brief visit to the Blessed Sacrament because "although he was not an exceptionally pious person, he had of late been haunted by the sense that his life was over, or soon would be, and he wished to speak to God about it."
What he says to God takes the form of two brief sentences, which is about all that he is able to put into prayer at this point in his life: "I think my life is over" and "Do whatever you want with me." The first, like many premonitions, turns out to be correct but not in the way that Alex thinks, and the second is the sort of thing that one had better mean when one says it to God who has things in mind for us that we cannot imagine.
What happens over the next thousand pages is the end of what Alex considers the sum and substance of his life, tending his bookshop and evenings of reading, and the beginning of another life of increasing spiritual depth and surrender to the mysterious will of God. Alex has three significant connections to the world of human beings left: his lifelong friendship with the parish priest, Father Toby, and his two sons. Jacob, the elder, is a law student in Toronto and Andrew is a student at the fictional Tyburne College, a school for Roman Catholics that is in Oxford but not part of Oxford University.
Alex lives in a shell reinforced by his sense that he has reached the last act of his life. The first hint that he is mistaken comes when, at the risk of his own life, he rescues two children who would otherwise have drowned in icy water, an act of courage that instantly makes him a local hero and gives him a notoriety that he does not want. That he has to be resuscitated after he becomes clinically dead briefly after the rescue is a symbolic resurrection that prefigures all that follows.
The crisis begins with a seemingly small silence: he does not hear from his son Andrew at Christmas. At first he assumes that Andrew has simply gone away on vacation and forgotten to call him, so he waits weeks until the next term begins, but still there is no word. The secretary of the college finally informs him that no one knows where Andrew is, but then Alex receives two cryptic telephone calls from Andrew that give him the distinct impression that his son is in some kind of danger. Alex is thousands of miles away, has rarely ventured out of Halcyon, and is cash poor, but he realizes that he must go in search of his son, no matter what the cost. He manages to persuade the local banker to lend him some money, with his bookstore as collateral, and flies off to England.
Since the book still has around nine hundred pages the reader will not be surprised to learn that he does not find Andrew in England. He does, however, discover a trail and begins to pursue Andrew from place to place, and then from country to country. He sometimes seems tantalizingly close to his son but always fails to actually meet him.
I should mention that Alex is a Russophile who is fluent in Russian because, while he was spending two years of his adolescence recovering from rheumatic fever, he was befriended by a Russian exile who had found his way to Halcyon and become the school janitor. Alex began to learn Russian from him and when he later opened his bookshop he acquired a significant collection of Russian books, including a copy of Dead Souls autographed by Gogol.
The Siberian prologue has already alerted the reader that Russia will play a significant role in the story but how Alex makes his way from Halcyon to the Trans-Siberian Railroad in search of his son is a complex tale that is best read without knowing what is going to happen next. (Although I will admit that I found the story just as absorbing on the second reading.)
Further synopsis would give too much away. As a retelling of "The Prodigal Son" parable the story takes Alex on a journey of exploration of the heights and depths of the spiritual meanings of fatherhood. Alex thinks of himself as largely a failure as a father, yet when Andrew disappears he finds that he is not the sort of father who can simply wait and hope for his lost son to return to him, but instead, like the Good Shepherd, abandons everything and goes off into the unknown in a desperate and indefatigable search. He is the prodigal father who risks everything in his determination to find Andrew.
But Alex also discovers himself as a son in surprising ways, just as he discovers depths of fatherhood in his soul that he had not known existed. And since God is supremely and preeminently The Father this is also the tale of God the Father's kenotic search for his human sons (and daughters) as Alex experiences his own kenosis and internal transformation through his devotion to his son.
O'Brien skillfully weaves the events and characters into the complex tapestry of the life of a seemingly ordinary human being who represents Everyman in his quest for wholeness. For instance, what seemed a chance encounter with an émigré Russian in Alex's adolescence turns out to have incalculable consequences for his later search for his son. (A plot device that resonates with this reviewer: at the age of fourteen I had a completely unexpected opportunity to begin to learn Russian, which greatly changed the course of my life in ways I could not possibly have foreseen as an adolescent.)
But the story is as much about the search for the divine Father as for the earthly son. Although Alex is a practicing but otherwise not deeply committed Catholic at the beginning of the story, by the end, after encounters with people who reveal to him the spiritual richness of their belief, Catholic and Russian Orthodox, as well as much suffering, both physical and spiritual, he has discovered a living faith he had not previously imagined.
I was unfamiliar with O'Brien's work before reading The Father's Tale, but after I finished this book I began to read his earlier novels, beginning with Theophilos, his fictional creation of the character to whom St. Luke writes at the beginning of his Gospel. Theophilos is a physician and the adoptive father of Luke, and during the course of the novel he also encounters Christ through the witness of those who knew Him. In his "Author's Note" at the end O'Brien says:
"It is my earnest hope that the reader will return to the luminous word of sacred scripture with refreshed eyes and that he will thirst for the One who is the eternal Word. In Him may what we have considered old and familiar be revealed to us as ever new."
Similarly, in the Preface to Sophia House O'Brien writes, "It is my hope that through the lives depicted here the face of Christ will be visible." I should mention that O'Brien is also a painter who uses his novels to "paint" portraits of Christ and Christian truth. Although there is no such Note at the end of The Father's Tale, the author's intention is clearly much the same, to awaken readers to an increased consciousness of the divine presence and our intense need for God.
One could say that the novel encapsulates T.S. Eliot's poetic way of putting it:
We shall not cease from exploration
And the end of all our exploring
Will be to arrive where we started
And know the place for the first time.
O'Brien is that rarity in our disordered, secular, and skeptical modern times, a prodigiously gifted writer who is an unabashed explorer and exponent of the depths of spiritual truth in traditional Catholic belief.
Also available are reviews of "Sophia's House," "A Cry of Stone," "Father Elijah," "Voyage to Alpha Centauri," "Theophilos," "Island of the World," "Plague Journal," "Eclipse of the Sun," "Strangers and Sojourners," "Elijah in Jerusalem," and "The Fool of New York City."