Michael D. O'Brien: From Apocalypse to Love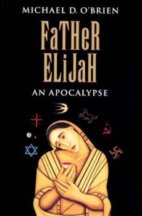 Michael D. O'Brien.  Sophia House. San Francisco: Ignatius Press, 2005.
Michael D. O'Brien.  A Cry of Stone. San Francisco: Ignatius Press, 2003.
Michael D. O'Brien. Father Elijah: An Apocalypse. San Francisco: Ignatius Press, 1997.
The End Times
In previous reviews, I discussed Michael O'Brien's novel The Father's Tale and the Delaney family trilogy in his Children of the Last Days series. In the final two installments I will review the other three Children of the Last Days novels—Father Elijah, Sophia House, and A Cry of Stone—and then the three other novels that he has published to date—Island of the World, Theophilos, and Voyage to Alpha Centauri.
In these six novels O'Brien employs diverse situations and characters to elaborate on his primary theme of the cosmic warfare between good and evil that manifests itself variously in the corruption of power and modern ideologies hostile to Christianity.   Whatever the time period, geographical location, or specific circumstances, O'Brien is a superb inventor of stories and wonderfully human characters who must overcome their flaws and plumb their inner depths to find the strength and grace to confront the seductive falsehoods of evil while bearing witness to the truth. His novels are intelligent, trenchant critiques of the burgeoning disorders of Western civilization as well as gripping tales that this reader, at least, finds just as absorbing in the third reading as in the first. I should mention that O'Brien also has the redeemed soul's sense of humor.
Father Elijah: An Apocalypse
In Father Elijah: An Apocalypse, the most explicitly apocalyptic of O'Brien's novels, we find human beings who are fully conscious of being active participants in the end-times cosmic warfare waged by Satan against God. In his Introduction O'Brien mentions four interpretations of John's Apocalypse, the last of which, and the one that he accepts, is that "the 'end times' begin with the Incarnation of Christ into the world, and there remains only a last battle through which the Church must pass." He says that he is not attempting to predict the specific form of the Apocalypse but wrote the novel instead as speculation to ask "how human personality would respond under conditions of intolerable tension, in a moral climate that grows steadily chillier, in a spiritual state of constantly shifting horizons." To one degree or another this is the question at the heart of all of his novels.
The theme of the plague, the rampant evil that purports to be the cure for all sociopolitical problems and disorders, is even more fully developed here than in Plague Journal. The battle between divine good and modern incarnations of evil is personified in two archetypal characters referred to by their titles but never given names: the Pope (clearly modeled on Pope John Paul II) and the extremely powerful, charismatic President of the Federation of European States (one of many powerful positions that he holds) who is an exponent of uncompromising secular humanism. Given to vapid and clichéd but ominous rhetoric about the "forging of a global civilization" and the "rebirth of a fundamental option for mankind," the President is lionized in the media as a kind of secular saint and is clearly to be understood as an anti-Christ if not the anti-Christ. Father Elijah is a Carmelite monk who was born in Warsaw as a Hasidic Jew named David Schäfer. He survived the Holocaust because he escaped from the ghetto and was hidden by a Polish bookseller named Pawel Tarnowski (the story told in Sophia House).
After the war he became a prominent Israeli politician but then converted to Catholicism and became a monk, expecting to live the rest of his life in monastic obscurity. But at a time when the Church is increasingly despised and "is in crisis to her very foundations" he is summoned to the Vatican because the Pope has chosen him to make a last-ditch attempt to warn the President of his grave spiritual danger and admonish him to abandon his efforts to destroy the Church. His chances of success are aptly symbolized by Luca Signorelli's remarkable fresco "Sermons and Deeds of the Antichrist" which Father Elijah contemplates in the Orvieto cathedral. The central figure, who is preaching to the multitude, looks very much like Christ as conventionally portrayed, except that he is in such intimate communion with Satan who stands directly behind him, apparently whispering in his ear, that it is clearly Satan who is in control. Signorelli has even cleverly painted the Antichrist's left hand as though it could just as easily be Satan's. The point is, of course, that the demonic presents itself attractively masked as good.
Like Signorelli, O'Brien has penetrated the seductive appearance of good in modern deracinated minds. In a somewhat incoherent speech after he has been introduced with his UNESCO-bestowed title of "Worldhealer," the President announces as a kind of revelation that "the great secret of the universe" is that it "breathes" and "lives" and that now all human beings will find their ultimate destiny, "a primal awe and an original sacredness," in the depths of the universe. The climax of his speech, which elicits from his audience "wave after wave of euphoric intensity," is the apotheosis of man, the very essence of secular humanism and progressivism, and his rationale behind "global governance."
When will we begin to see ourselves for the first time and know ourselves?… I tell you that we shall come out into the light on the day we lay down our weapons and our judgments and divisions and look into each other's eyes. For in our own eyes, we shall see at last the radiance of divinity. Doxa! Glory! And on that day we will begin to worship in spirit and in truth!
The President sees a convergence "toward a leap of consciousness into the age of universal harmony," "a new world order," a time of "worldvision" in which humanity will "find on this earth the ultimate meaning of our common destiny!" In short, the immanentization of the eschaton. The claim that the tensions of existence will be abolished in this world by humanitarians like the President is the seductive lie of demonic nothingness.
Father Elijah discovers that even some members of the Church hierarchy have succumbed to this lie, such as Cardinal Vettore, who, having failed to discern Satan behind the President, or perhaps thinking, like Dostoevsky's Grand Inquisitor, that it is Satan who truly loves mankind, confronts the Pope, urging him to resign in the interest of world harmony. He claims that there are many dissident bishops who believe the Pope has failed in implementing the reforms of Vatican II and want the Cardinals to elect a new Pope who will reject hierarchy in favor of a more democratic church. Having transferred his faith to the President "to extricate Man from his own fallen nature" and to build the City of God, Vettore argues that dogmatisms of all kinds are responsible for the "hideous wars and revolutions of the twentieth century" and predicts an imminent "quantum leap forward" that will require Christianity to abandon its beliefs, indeed to cease to exist, so that the planet can be saved through a belief in Man. He has, in short, been persuaded that the true religion "finds salvation in the world, not above it in a faraway castle in the sky." The Pope's blunt reply is that he "would a thousand times rather have a persecuted Church than a compromised Church."
As O'Brien notes in his Introduction, this is a novel of ideas. It is a novel of the spiritual crisis of the modern world that is afflicted with "a kind of absolute despair" because of the eclipse, or rejection, of transcendence and the "inability to trust in the ultimate goodness of life." The death of God has been accompanied by the death of man. As the Pope observes, men want "totalitarianism without brutality," not 1984 but Brave New World, although the latter is just as spiritually brutal and desiccated as the former. There are murders in this novel because human attempts at self-salvation and the denial of transcendence inevitably lead to murder—the physical violence is an outward manifestation of the deeper and more serious spiritual violence—but there are also encounters with angels. The reader already knows which side will ultimately win but this novel is worth reading and rereading for the spiritual depth and insight with which O'Brien analyzes the pneumopathologies of our time.
Sophia House
Sophia House is a kind of "prequel" to Father Elijah since it relates the story of sixteen-year-old David Schäfer's rescue by Pawel Tarnowski when he escapes from the Warsaw ghetto in September 1942 and in desperation stumbles into a bookshop. Tarnowski succeeds in hiding him for several months during which they have numerous philosophical and religious discussions in search of Wisdom as they struggle to survive the winter.
However, this is a much richer story than such a bare outline of the plot can convey because of the depths of the characters and the almost unbearable tension of the situation. It is mainly the life story of Pawel, the younger brother of the clockmaker Jan Tarnowski, who will later live in Swift Creek, British Columbia, and befriend the young Nathaniel Delaney. Pawel, in his early thirties in 1942, had a mostly happy childhood in Warsaw except for his father's absence during World War I and his return, a changed man, from the Russian POW camps. As an adolescent, Pawel develops artistic interests and ambitions and decides to move to Paris to study art. Although he does not succeed in becoming a major artist he does become immersed in Western culture and discovers some truths about himself, including his homosexual inclinations (which he never indulges and which, in fact, horrify him). He reads widely, from Plato to Marx and even Hitler, and absorbs as much art as possible. He is so moved by Georges Rouault's painting of Christ in agony that he writes to Rouault who replies with an invitation for a visit, but Pawel can never quite bring himself to make the trip.
Eventually, thinking himself an artistic failure, he returns to Warsaw to find that his Uncle Tadeusz has bequeathed his bookshop to him. Pawel also establishes a small press, which publishes Vladimir Soloviev's short work The Antichrist (an instance of the apocalyptic theme) and even tries his hand at playwriting—in the middle of the book is the text of his play about the Russian icon painter Andrei Rublëv. (O'Brien reports in the Preface that this was inspired by Andrei Tarkowsky's film about Rublëv.)   Meanwhile he occasionally buys and sells books to eke out enough income for food and heat for himself and David and tries to keep at bay a frequent visitor, the quisling and art dilettante Count Smokrev who says that Lucifer was unjustly maligned, thinks that the Church's worldview causes wars, and, like the Nazis, believes that the regeneration of the West will be achieved through a return to primitive instincts.
Pawel, by contrast, struggles to preserve beauty and his Catholic faith because he has come to the realization that in a hopeless world "the despair was relieved mysteriously by the magic of art," as David remains a devout Orthodox Jew even as barbarism is destroying the world around them. In addition to Rouault's painting there are numerous references in the novel to other works of art, and literature, such as the eight Breughel paintings that Pawel sees in Vienna's Kunsthistorisches Museum as well as a painting of the Last Judgment by an anonymous artist of the late nineteenth century, a painting that in its depiction of loneliness, fear, and despair, causes him to weep uncontrollably. Seemingly by chance (although there are very few chance events in O'Brien's novels), he meets the still anonymous artist, now a "very old, very bent man," who tells him that this was his last painting and its message was that in the midst of the darkness and despair in the world there is love. This is, of course, also O'Brien's message in his portrayal of Pawel, in the midst of the darkness and despair of Nazi-occupied Warsaw, growing immensely in love and self-sacrifice. Although David plays an important role, this novel is the story of Pawel's soul, and his struggle to find God and himself while overcoming fear and despair. Art and literature are the means by which he seeks transcendence, and the struggle against the evil of Nazism is simply one battle in the ongoing cosmic war.
A Cry of Stone
A Cry of Stone is the life story of an immensely gifted artist named Ogini Rose Wâbos (or Rose Rabbit), a member of the Anishinâbe people, who is a young girl in British Columbia at the time when Father Andrei, who plays a significant role in the first part of the novel, is living in the area. An only child being reared by her devoutly Catholic grandmother, Oldmary, after being abandoned by her mother, Youngmary, Rose is a loving child whose fondest hope is for a little brother, a hope that is fulfilled in the form of Binemin Edzo, a deeply troubled young man who has been so traumatized by abuse that for a long time he is mute and begins to speak only after years of Rose's, and Father Andrei's, patient love. For several years they attend the village school where Rose is befriended by the teacher, Euphrasia Gorel, a cultivated and lonely woman who discerns and encourages Rose's artistic gift. Although not intellectually brilliant, Rose is a talented artist born with the ability to translate profound spiritual insights into rich and moving works of art, a gift that she calls "falling into seeing."
Rose eventually leaves her village to attend a Catholic boarding school for aboriginal children. Binemin attends for about a year but returns to the village where he is given a home by the least suitable person in the area, a man who despises God. Rose remains at the school until she is about twenty-one, mainly because it has become her home, Oldmary having died. During these years Rose experiences a loving relationship with the French nuns who become her mothers, a great growth of her artistic creativity, considerable deepening of her faith, and a significant worsening of the painful spinal deformity she has had since childhood. When Rose inherits some money the nuns encourage her to enroll in an art institute in Toronto to improve the technical proficiency of her art. She studies happily, if frugally, until a disaster renders her homeless and sends her to Montreal by way of Ottawa, a very difficult journey that she believes is guided by God. In Montreal she is led to Hugo and Esther Dyson, an elderly couple, both artists, who immediately recognize Rose's gift and take her in, making her part of the family and eventually their heir. This novel, too, abounds in delightful, complex, and beautiful characters, of whom my own favorites are, besides the Dysons, the French nuns and the inspired creations Winnie and Minnie McCaul, who appear near the end of the story. These are all salt-of-the-earth human beings who aptly illustrate O'Brien's theme that the meek and the lowly are more in tune with reality than are the powerful.
In this novel O'Brien adapts his narrative style to reflect the character of Rose who is essentially a simple and saintly soul able to see what the wise and powerful of the world cannot. She patiently endures her increasing back pain and prays when she is not painting, frequently in church before the Blessed Sacrament, the divine presence referred to throughout much of the book as the "Beating Heart." Needless to say, her art, like that of O'Brien himself, is suffused with Christian faith, which is the basis for the central theme of the book, Rose's encounter with and rejection by the acolytes of modern art. Because she is, in effect, the antithesis of the modern Zeitgeist, her work is, in their eyes, interesting and technically quite proficient but unfortunately too much influenced by what one critic calls "the rather simplistic and exhausted image back of, well, Christian symbolism."   In other words, the book is the story of the beauty of transcendence that makes its appearance in the world through the meek and humble only to be rejected by the closed souls that believe they are in control in the world.
Compared to Father Elijah, the strife between good and evil is rather low-key in this novel but still very much present. Rose is a true saint of the "little way."
Also available are reviews of "The Father's Tale," "Voyage to Alpha Centauri," "Theophilos," "Island of the World," "Plague Journal," "Eclipse of the Sun," "Strangers and Sojourners," "Elijah in Jerusalem," and "The Fool of New York City."